TW TRAINING – SCHNELLE MITTE COMPETITION: Es befinden sich zehn Bälle im Torraum Es befindet sich ein TW im Torraum, der andere steht an der Mittellinie. Der TW im Torraum muss so schnell wie möglich alle Bälle zu dem Spieler in der MItte passen. Zeit stoppen!
GOALKEEPER TRAINING – FAST THROW OFF COMPETITION. There are 10 balls in the D. There is one goalkeeper in the D, the other one is in the middle of the court. The goalkeeper in the D should pass all ten balls as fast as possible to the player in the middle of the court. Time!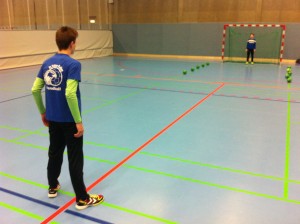 Die meisten Übungen sind als Competition aufgebaut, deshalb bitte nicht zögern, die Bestwerte eurer Schützlinge hier einzutragen, wenn ihr die Übungen ausprobiert. Viel Spaß, Coach Filz.