EHF Lecturer Roman Filz hat soeben seine 4. DVD veröffentlicht. Es geht wieder um Handball Goalies.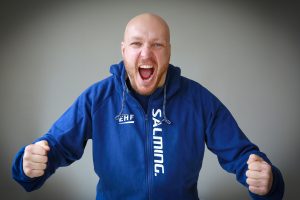 Diesmal waren neben Florian Deifl & Gregory Musel von der HLA Mannschaft vor allem die Youngsters Lukas Schwaiger & Christoph Hartwein im Einsatz. Good job! Danke an Moser Medical UHK Krems für den unkomplizierten Support.
Auf dieser DVD sind viele meiner aktuellen Lieblingsübungen zu finden, sowohl für die Goalies als auch für die Trainer, aber so wie bei einem anderen Lieblingsprojekt der Goalie Academy Austria – ist es mir auch hier gelungen, etwas Neues einfließen zu lassen und ein älteres Skriptum upzuloaden:
Der Handball Coach & Physiotherapeut Stevie Hanko stellt uns Übungen vor, die er den Handball Goalies empfliehlt, vor allem im Bereich "Kraft" und "sensomotorisches Training".
Zwei Schüler aus einer Österreichischen Sportmittelschule zeigen uns ihre Jonglierskills aus zwei Gründen: Zum einen, um einen Lernweg zu zeigen, wenn das Ziel "mit drei Bällen jonglieren können" lautet, und zum anderen, um den Leuten, die es schon können, ein paar weiterführende Übungen zu zeigen.
Der Snowboarder und Outdoorspezialist Erik Wöll filmte mit seiner Drohne zum ersten Mal überhaupt in einer Handballhalle und gibt uns einen interessanten Einblick "von oben", was vor allem beim Wurftraining die Übungen anschaulicher macht.
Hier stelle ich wie angekündigt mein Paper zum Thema Agility Ladder zum Download zur Verfügung (skriptum agility ladder 2003 ); lasst euch nicht abschrecken, dass es aus dem Jahr 2003 stammt 🙂 Es hat nach wie vor volle Gültigkeit.
Hier gibt es eine kurze inhaltliche Übersicht über Goalies 2017 auf Deutsch.
Natürlich sind die "alten" DVDs nach wie vor erhältlich.
Details zur Bestellung: hier
Alles Gute,
Roman Filz
EHF Mastercoach
---
EHF Lecturer Roman Filz has just published his fourth DVD. Again some handball goalie action.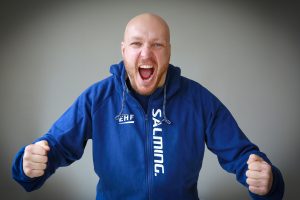 This time not only Florian Deifl & Gregory Musel from the HLA team were starring, also the youngsters Lukas Schwaiger & Christoph Hartwein were really doing a good job! Thanks to Moser Medical UHK Krems for the helping support.
On this DVD you find a lot of my current exercises for handball goalkeepers and their coaches, but like in one of my other favourite projects – the Goalie Academy Austria – I always like to bring up new things, and in addition I uploaded an old paper:
The handball coach & physiotherapist Stevie Hanko was asked to show his favourite exercises for goalies, especially in the areas sensomotoric training and strength training.
Two kids from an Austrian sports middle school show us their juggling skills for two reasons: at first they show a methodic way, how you can learn how to juggle with three balls easily, and furthermore they demonstrate extra exercises suitable for those, who can already juggle.
The Austrian snowboarder and outdoor sports fan Erik Wöll filmed for the first time ever in a handball arena with his drone and gives us an interesting insight from the top.
Last thing is a paper about Agility Ladder Drills. Although it is from 2003, it is still nice to be read and used: skriptum agility ladder 2003 Just available in German, but with many pictures 🙂
Here you get a short overview into Goalies 2017 in English.
Of course the old DVDs are still available.
Details for order: here
All the best,
Roman Filz
EHF Mastercoach